Bliss Yoga Center is located at 1738 SE 58th Ave (aka Baseline Drive), 352*694*YOGA
Email info@BlissYogaCFL.Com
---

Jennifer Kelley, ERYT-500
Jennifer is a survivor of life and a recovering over-achiever.  Yoga found Jennifer as a 28 year old woman who was physically, emotionally, and mentally deteriorating.  She was a young mother, in an abusive relationship, and lost in her own world.  She was emotionally numb.  Her body was a mess.  She didn't breathe enough, she suffered IBS symptoms daily, and physically couldn't even touch her toes.  A woman who loved to dance as a child, could no longer feel enthusiastic or inspired.  She was too busy coping with her situation.
Over the course of her years practicing and teaching, Yoga transformed that woman into a physically, mentally, emotionally and spiritually strong woman.  Yoga brought Jennifer to some very deep awareness about herself and others, and gave her the strength and means to find her own Love within.  Yoga gave Jennifer her health and happiness back. At 41, Jennifer is healthier and happier than she has ever been in her adult life.  She is thrilled to be able to share what she has learned at her own Bliss Yoga Center. 
At Bliss, Jennifer encourages exploration in a safe and loving environment.Yoga has the ability to reduce pain, anxiety, stress and improve breathing, circulation, physical strength and flexibility.  Yoga deepens your connection to yourself and your spirit and helps you reconnect with your sense of vitality, joy and most of all Love.  Jennifer has lived this transformation, and she is ready to support you through your journey toward Bliss.
---
Ashley Cullinan – RYT

Ashley began a personal yoga practice in 2007 in search of physical, mental, emotional and spiritual healing. Through the process of yoga she found a renewed relationship with her body, mind, and spirit, which transformed her from the inside out. Yoga allows her to continually transcend self-imposed limitations and accept herself and the world with loving awareness. Ashley sees yoga everywhere, constantly unfolding in her artwork, relationships and love for Mother Nature.
In completing her 200 hour Yoga Alliance Teacher Certification at the Amrit Yoga Institute in 2009 Ashley knew she had found her purpose. She is passionate about yoga as a way of life and has a natural ability to communicate and share the principles of yoga in a practical, funny and simple way. Ashley has extensive experience working with people of all walks of life and range of ability – on and off the mat – she holds a loving, compassionate space to explore, play and experience yoga.
---
Stuart 'Chandresh' Feinman
was drawn to studies of eastern religion and meditation as a teenager. In high school, he played varsity soccer and various other sports. In college, he began his formal studies of various types of meditation, hatha yoga, zen buddism and comparative religion. By practicing hatha yoga he began to realize the close connection between body, mind and spirit.
Chandresh has studied with many spiritual masters and eventually met Yogi Amrit Desai in 1977, the founder of Kripalu Yoga and Amrit Yoga. Chandresh moved into the Kripalu ashram (spiritual community) in 1977 and began to study with Desai. Chandresh's spiritual studies have continued and he considers himself in the tradition of bhakti yoga (yoga of devotion).
Chandresh is a personal trainer, massage therapist and yoga instructor and his focus is on the therapeutic aspect of Kripalu Yoga. He is a student of authentic yoga and enjoy studying and teaching the philosophy in its pure form as established by the founding father of yoga, Maharishi Patanjali
…click here to visit Chandresh's website
---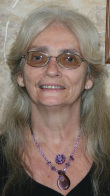 Reiki Master, Liz Wood
Flowing Reiki Energy was formed by Liz to help others to relax and remove some of the stress in their daily lives. After working in the accounting field for over 30 years Liz decided she wanted to do something different that would benefit others. Not knowing how to do this she started to do research and found a New Age Group that was having a Reiki information seminar followed by a Reiki circle. During the seminar she was told about how Reiki helped a sick bedridden women get out of bed and become a Reiki Master Teacher to help spread the word about the wonders of Reiki. They then gave her a short demonstration of what Reiki felt like. After attending this seminar and receiving approximately five minutes of Reiki she knew that was what she was looking for. After a few sessions with her Reiki Masters, Liz received her Reiki 1 certificate and hasn't looked back since.
Liz has been a practitioner since Jan 2011, is a member of The International Center for Reiki Training and am fully insured. She became a Reiki Master in August of 2012 after studying and practicing since August of 2010.
In 2013, Liz will begin to teach others about Reiki and show others how they can help themselves to relax and feel better.
A few clients comments are: "I felt more balanced and relaxed."
"Very relaxing"
"Pain went away"
"Tingling sensations"
"Lots of warmth"
Come experience the relaxing, calming effect of Reiki and see what everyone is talking about.
Visit FlowingReikiEnergy.com for more info.
---
Bliss Yoga is always looking to add talented teachers to our Family.  If you are interested in teaching, leading workshops, or using our studio for Private Yoga or Wellness Services, please contact us.  We would love to hear from you.